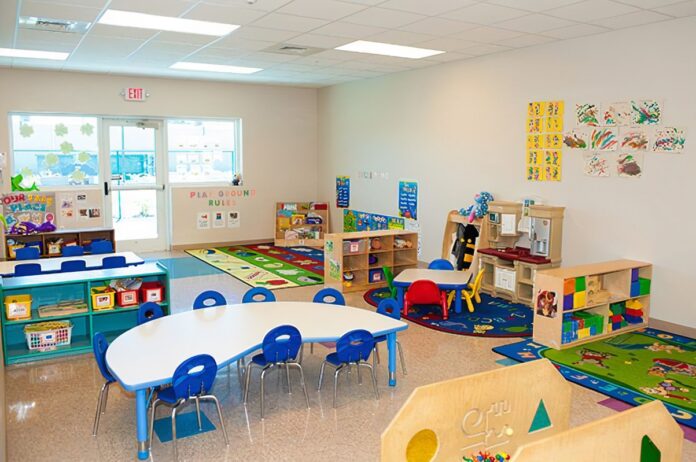 Are you a childcare teacher looking for new and innovative ideas to keep your classroom running smoothly? Childcare design is important to consider when opening a childcare center. The way the childcare center is designed can impact the way children learn and develop.
There are many different childcare design ideas that you can choose from. Look no further! This blog post will share our top five favorite ideas that we know will inspire you. From fun activities to helpful tips, we have everything you need to make your classroom the best it can be. So read on and get inspired!
List of top 5 Inspiring Childcare Design Ideas
Here are five of the top childcare design ideas that will inspire you:
1. Vibrant Colored Walls and Wall Designs
Childcare design should be based on making the children feel comfortable while there. Vibrant colors stimulate the brain and help babies and toddlers learn. So, a lot of color on the walls and warm undertones will make the childcare more inviting. Wall design elements such as cool wall decor drawings and quotes create an appealing environment that is perfect for learning and enjoying.
2. Different Activity Spaces
Childcare design should facilitate different activity areas in the classroom to allow children to explore various interests. For example, a reading nook with comfortable bean bag chairs will encourage children to spend more time reading. A block area with different blocks will allow children to build different things. By providing different activity areas, childcare classrooms can help every child find their niche.
3. Colorful Toys and Comfy Furniture
The furniture in a childcare classroom is designed to be comfortable and safe for kids. In addition, the furniture is also designed to be durable and easy to clean, which is essential in any childcare setting. The toys are specifically chosen to help kids learn and grow. And the colors are carefully selected to create a calm and inviting atmosphere.
4. Futuristic Shelves and Colorful Bins
The shelves should be lined with colorful bins. When it comes time to clean up, the bins make it easy for children to put everything away. This helps them learn how to organize their belongings and develop a sense of responsibility. And secondly, the shelves are often lower to the ground to give young children easy access to everything.
5. Toy Kitchen Area
A toy kitchen can be a great way to encourage imaginative play. The children can pretend to be chefs, waitresses, or customers, using the toys to create their own stories. As the children explore and play in the toy kitchen, they will develop important skills that will serve them well in their future lives.
Conclusion
We've got you covered if you're looking for some childcare design inspiration. These five ideas are sure to get your creative juices flowing and help you develop a perfect design for your childcare room. Keep in mind that the most important thing is to create a space that feels like home for your little one and makes them feel comfortable and safe. So whatever approach you take, make sure it accomplishes those goals. Thanks for reading!