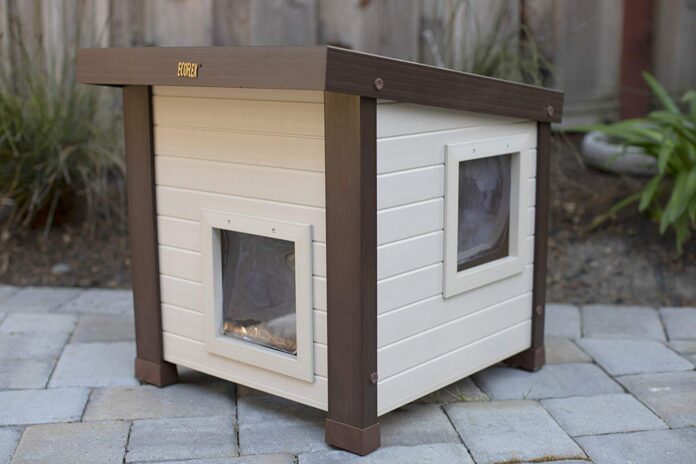 Are you looking for a feral cat house? Probably because you are an animal rights activist? Because you feel for these stray, introverted, innocent, and delicate creatures?
If it is so, you have a heart of gold. Feral cats are unsocialized cats who prefer to be alone and do not like contact with human beings. Efforts have been made in the past and are still underway to provide these unsocialized creatures with shelters, which could save them from the harsh weather and other possible threats.
This blog post has narrowed down the options to make the task of choosing a feral cat house much easier. So just read till the end and choose the best!
Some Important Considerations for Choosing a Feral Cat House
1. Size
You can opt for the microchip door house if you intend to provide shelter to a single feral cat. This private feral cat house can accommodate a single cat pretty well. However, if you are looking after a population of many cats, you must consider the XL shelters. This kind of feral cat house can simultaneously be a house for 3 or 4 cats.
2. Weather
Weather is the most crucial factor when choosing a feral cat house. Study the weather of the desired area in detail. You should know whether you wish to protect the cats against chilly and wet winters or hot and dry summers.
The shelters should have insulation and water-resistant systems depending on weather and placement.
Self-heating cat houses are a good option, but we strictly need to monitor them for the risk of overheating.
3. Area for the Feral Cat House
If your cat shelters are outdoors, you must install them in places where sunlight cannot fully approach them. Insulation is a priority in this case. However, if placed in a garage or any shadowy place, insulation is redundant in such a case.
It's better to place these houses on raised surfaces. This practice saves them from flooding and also keeps them warm and cozy.
4. Safety
All our efforts are useless if the safety factor is missed or ignored. We can ensure the protection of feral cats by providing them with a safe hideout. Foxes and snakes are always a great risk, besides the physical hazards like flooding.
Cats monitor their surroundings for the sake of safety. So a feral cat house with a peek window is the best option if placed well on a raised surface. It will help the cats feel safe while looking around.
5. Maintenance
Mould, dampness, germs, and litter can pollute the feral cat house. Maintenance of these shelters is important to provide the cats with a healthy environment.
The use of animal-friendly disinfectants is safe for cleaning the shelter. Mould and dampness affect these houses adversely, so for better longevity, treatments for them should be done.
Select the cat house with an easy, accessible, hinged-up door that can make cleaning easy and efficient.
Conclusion
There are a lot of things to think about when choosing a house for feral cats.  -The most important factor is the safety of the cats.  -Other factors to consider include: whether there is size, weather, shelter from the elements, and if it is in a safe location. There are many different types of houses that can be used for feral cats, so choose what will work best for your situation. Putting up a feral cat house can help reduce the population of stray cats in your community.  If you're not sure how to get started, there are lots of resources available out there.